Purple Royale Serveware Set delivery updates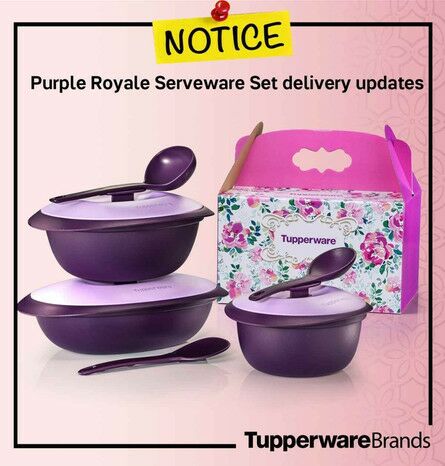 Due to overwhelming demand of the Purple Royale Serveware Set, kindly expect some delays in the delivery of your orders. You may continue to put in your orders as we are currently still running production to fulfill the demand. The supply will come in on a staggered basis and your orders will be fulfilled by 24th April 2021 latest. Please check with your Business Center / Studio owners for further updates of the delivery schedule.
---
Oleh kerana permintaan yang tinggi terhadap Purple Royale Serveware Set, kami menjangkakan sedikit kelewatan terhadap penghantaran pesanan anda. Anda boleh terus membuat pesanan kerana kami masih menjalankan pengeluaran untuk memenuhi permintaan. Bekalan akan masuk secara berperingkat dan pesanan anda akan ditunaikan selewat-lewatnya pada 24 April 2021. Sila hubungi pemilik Business Center / Studio anda untuk maklumat terkini mengenai jadual penghantaran.